Often we are approached by someone who is concerned a job may be too small for us.  This would never be the case with us, though!  We are very lucky here at MBTC as we enjoy a wide variety of objects that need conservation and these three family samplers were of no exception.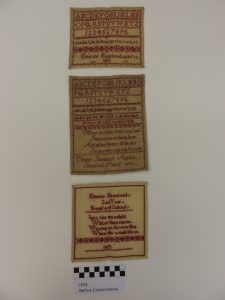 The samplers were surface cleaned using a fine nozzle vacuum cleaner and fine sponge and were then humidified and pinned out to reduce creasing.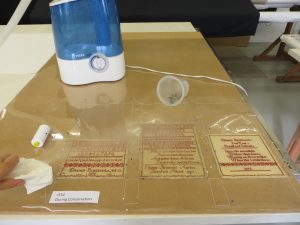 They were mounted on a board of conservation card, which had been covered in pre-shrunk cotton dommette and then our client's chosen mounting fabric.  The samplers were secured, by stitching in to place, and mounted vertically, in date order, creating a long, narrow display.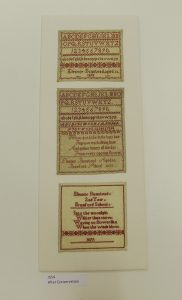 The mounted samplers were then framed locally and our client now has a beautiful display of part of her family's heritage that she can pass on to her children and grandchildren.