During the early Summer of 2019 Anna worked in-situ at Ickworth House, Bury St. Edmunds, conserving their exquisite Library Sofa – a rosewood and upholstered sofa, by Banting, France & Co. London, circa 1830, with shaped back rail and scrolled arms, upholstered in a green & white silk damask.
After ensuring all loose and lifting silk threads were realigned and laid flat, previously dyed fine nylon conservation net was applied over the top of the seat cushion and on top of the entire back of the sofa, and stitched in place. Further a worn area of silk on the proper right side was also covered with a protective layer of net as above. Finally, loose and detached gimp braiding was secured with stitching.
Proper left back corner, loose silk, BC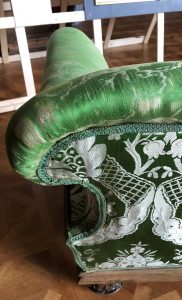 Proper left back corner, AC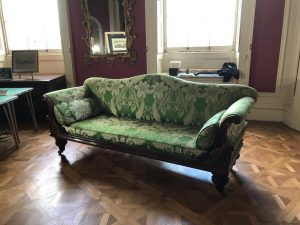 Sofa front, AC
You can find out more about Ickworth House via https://www.nationaltrust.org.uk/ickworth.