New Year Greetings from us all
at
May Berkouwer Textile Conservation
Happy 2020!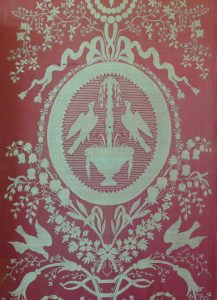 Our 2019 Christmas Card front picture showed a detail of the lampas silk wall coverings in the Boudoir at Arlington Court in Devon. Designed specifically for covering walls, this extraordinary fabric has repeat of over 3.7 m. It dates from the 1780's and was made in the silk factories of Lyon, France.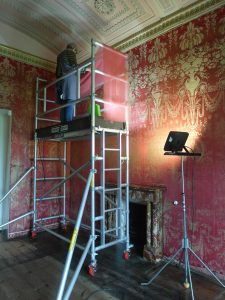 The photograph above was depicted on the back of our Christmas card and showed May applying the protective conservation net in situ.
Images used by kind permission of the National Trust
May will be speaking on the subject of Preserving Silk in Sudbury at a forthcoming history evening being held at The Quay Theatre, Sunday 2nd February, 7.30 pm.
Please click here to see further details / book your ticket.