Saturday, 7th September heralded the Sudbury Silk Festival, which celebrated the rich history of silk weaving in Sudbury with a day-long programme of exhibitions, talks, silk walks, a silk architectural heritage walk and workshops. The long tradition of silk weaving in the town stretches back to the 1780's. By 1844 there were four silk manufacturers and 600 silk looms in Sudbury and today it is still a thriving industry with five silk weaving companies … upholding Sudbury as THE leading silk manufacturing town in the UK, producing 95% of UK woven silk. Wow!
We at MBTC had great pleasure in taking part in the festival and enjoyed the countless visits to our stand in St. Peter's Church. So much interest was shown by so many – thank you.
We had two displays: one depicting a colourful insight into our work with silk, in various stages of conservation …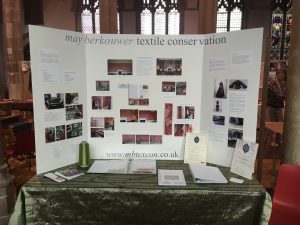 … and the other showed a cross-section of interesting items of our conservation work over the years.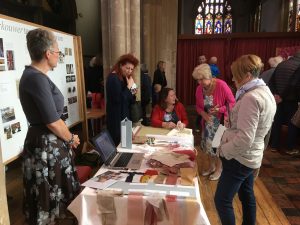 Anna expertly led impromptu sewing sessions; trying your hand sewing with a curved needle!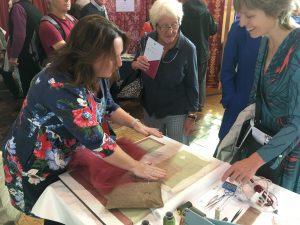 A wonderful day and a wonderful way to celebrate the riches of Sudbury.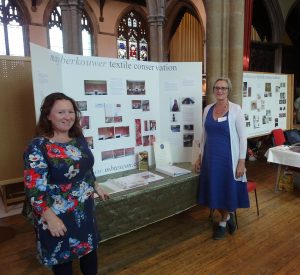 To coincide with the Silk Festival, Gainsborough's House are holding a 'Vivienne Westwood at Gainsborough's House' exhibition until 27th October. Please click here for more information.
For the official Sudbury Silk Festival website, please click here for information, or for their official Facebook page, please click here.