At the end of July 2017, May Berkouwer was very privileged to visit the London Transport Museum in order to assess their collection of Moquette fabrics. Over 300 samples of Moquette are stored in the Museum Depot in West London, and May was asked to make general recommendations for the long-term storage of the collection.
The diversity of shape has naturally led to different methods of storage, so that some lie flat in drawers and others are rolled and placed on shelves. There are also samples mounted onto cardboard display boards.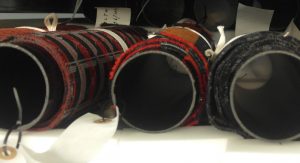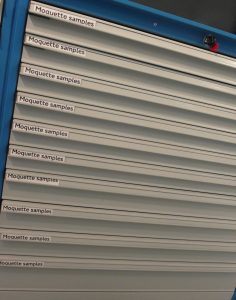 The Moquette fabrics were made as covers for the upholstered seating in London Transport carriages and vehicles; many samples were sent for selection, some of which were used. The fabrics are sturdy velvets or loop-pile fabrics, woven mostly in cotton for the base and wool for the pile, more akin to carpets than dress or furnishing fabrics.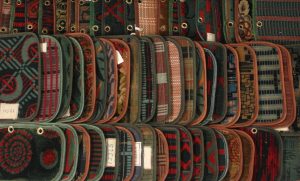 The designs are of high quality and represent their periods very well, from the early twentieth century to date, with late art deco styles to more modernist designs, in attractive colours. Many are highly recognisable and evocative for anyone who has travelled on London Transport.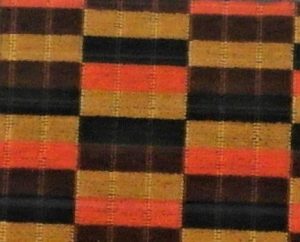 The initial link below will take you to the London Transport Museum's website page which is dedicated to their Moquette Project. The second link will take you to specific information about the LTM's specific care guidelines for this collection.
https://www.ltmuseum.co.uk/collections/projects-partnerships/moquette-project / https://www.ltmuseum.co.uk/assets/Moquette_Collections_Care_Guidelines.pdf